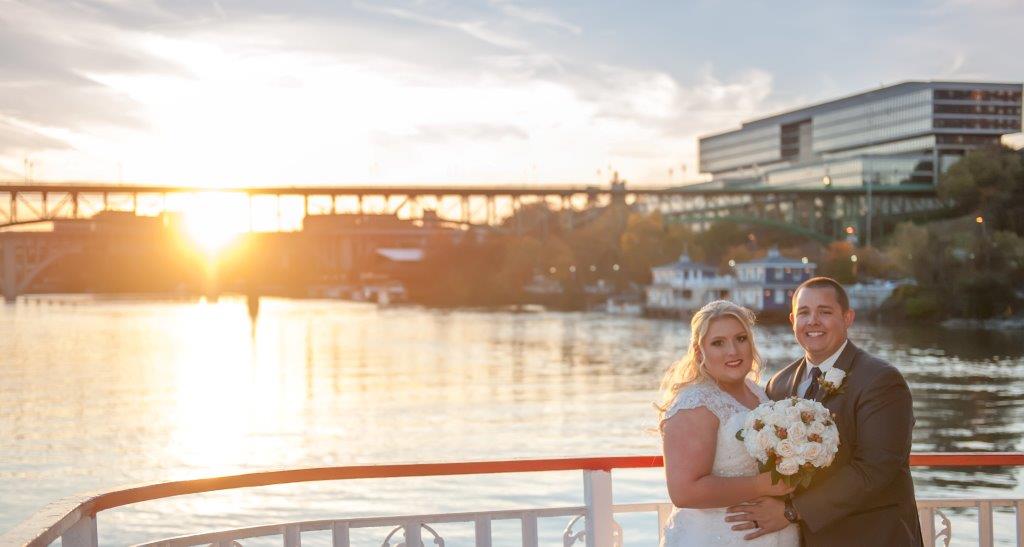 Wedding Cruises
Star of Knoxville Weddings
Weddings onboard the "Star of Knoxville" riverboat are a most unique and distinctive choice for your wedding. We can provide complete arrangements for the most intimate of weddings to the most elaborate, accommodating anywhere from 2 to 110 for a ceremony and reception and up to 235 for a reception only. The vessel is equipped with two (2) bars, a dance floor, and band stage. The open air observation deck is ideal for an outdoor setting. Our main interior is fully air conditioned and heated, for a great dining and entertainment experience and is a perfect choice for the most important day of your life. From black tie events to very casual, the atmosphere is right for any occasion. The beautiful Tennessee River proves to be the most romantic, enchanting, and memorable atmosphere in East Tennessee. You and your guests will be mesmerized by scenery and fully entertained during any of our cruises.
Our wedding package below helps take care of many of your wedding needs. We have our own personal chef to take care of all of your catering needs. The only services we do not provide are photography, wedding cakes, and floral. Let our experienced staff help you plan the perfect wedding that your group will long remember. We are also the perfect facility for rehearsal dinners, bridesmaid luncheons, bridal showers, or bachelor/ bachelorette parties.
Star Wedding Package
The Star Wedding Package is our most popular package available for ceremonies and receptions. Let us provide all the following services to help make the most important day in your life stress free!
1 hour dockside for boarding and ceremony
2 hour cruise on the Tennessee River for reception (additional time available)
A captain/crew member to perform the ceremony
DJ for ceremony music and reception entertainment
Use of Bridal Suite for 2 hours before boarding
Access to boat 2 hours for decorating before boarding
Cash bar and bartender
Archway for ceremony
All tables and chairs
Bride and Groom table
Registration table
Gift Table
Cake Table
Dinner Cruise certificate for 2 for Bride and Groom
Bottle of Champagne (non alcoholic available)
Our professional wedding planner services
1 wedding rehearsal
FREQUENLY ASKED QUESTIONS…
DECORATIONS
THE RIVERBOAT COMPANY AND ITS STAFF ARE NOT RESPONSIBLE FOR DECORATING, GIFTS, OR ANY FURTHER SPECIAL ARRANGEMENTS UNLESS PURCHASED THROUGH THE RIVERBOAT COMPANY. PLEASE GIVE US THE NAME OF EACH DECORATOR SO THAT OUR STAFF WILL BE AWARE WHO IS ALLOWED ON THE BOAT EARLY.
ITEMS LEFT BEHIND
YOU ARE RESPONSIBLE FOR ALL MATERIALS THAT ARE BROUGHT ON BOARD. IF ANY ITEMS ARE LEFT AFTER THE EVENT, WE ARE NOT RESPONSIBLE FOR LOST OR DAMAGED ITEMS. THE RIVERBOAT COMPANY STAFF IS NOT RESPONSIBLE FOR COLLECTING ITEMS OR BOXING THEM UP TO BE PICKED UP THE NEXT DAY.
ITEMS NOT ALLOWED
THE RIVERBOAT COMPANY DOES NOT ALLOW CONFETTI OR RICE OF ANY KIND TO BE USED FOR THE CEREMONY OR THE RECEPTION AS IT CAN BE HAZARDOUS TO THE WILDLIFE ON THE RIVER. WE ALSO DO NOT ALLOW OPEN FLAMES ON THE RIVERBOATS AND THUS SUGGEST BRIDES TO USE LED LIGHTS INSTEAD. NO PAPER LANTERNS OR BALLOONS ARE ALLOWED ON THE OUTSIDE PATIO OR RAILINGS OF THE BOAT UNLESS SECURED TO THE BOAT ITSELF. WE DO NOT WANT ANYTHING TO FLY OFF OF THE BOAT INTO THE RIVER.
FOOD & BEVERAGE POLICY
NO FOOD OR DRINK IS ALLOWED TO BE CARRIED ON OR OFF THE RIVERBOAT. WEDDING CAKES AND CUPCAKES ARE THE ONLY EXCEPTION TO THIS POLICY.
BOOKING AND CANCELLATION POLICY
RESERVATIONS ARE ONLY CONFIRMED UPON RECEIPT OF DEPOSIT. DEPOSITS ARE NONREFUNDABLE. IF FOR SOME REASON YOU NEED TO CANCEL, PATRON FORFEITS ENTIRE DEPOSIT IN THE EVENT OF CANCELLATION. FINAL GUARANTEES AND PAYMENT ARE TO BE GIVEN NO LATER THAN 14 DAYS PRIOR TO THE EVENT. NO CANCELLATION FOR INCLEMENT WEATHER UNLESS THE CAPTAIN DETERMINES IT IS UNSAFE TO SAIL.